Mariana Aparicio en Eelco Smits hebben de belangrijkste Nederlandse toneelprijzen Theo d'Or en Louis d'Or gewonnen. Urmie Plein en Rick Paul van Mulligen wonnen de prijzen voor beste bijdragende rollen, de Colombina en Arlecchino. De uitreiking van de VSCD Toneelprijzen vond plaats tijdens de feestelijke afsluiter van het Nederlands Theater Festival: het Gala van het Nederlands Theater in Internationaal Theater Amsterdam op zondag 17 september 2023. Een registratie hiervan is dit najaar te zien bij AVROTROS.

Nominaties
De Nederlandse Toneeljury kende in totaal 13 nominaties toe voor de vier grote toneelprijzen: de Theo d'Or (prijs voor de meest indrukwekkende vrouwelijke dragende rol), de Louis d'Or (prijs voor de meest indrukwekkende mannelijke dragende rol) en voor de meest indrukwekkende bijdragende rollen, de Colombina (vrouwelijke bijdragende rol) en de Arlecchino (mannelijke bijdragende rol).
We zetten de genomineerden voor alle VSCD Toneelprijzen 2023 voor je op een rijtje.
Theo d'Or
Meest indrukwekkende vrouwelijke dragende rol
Jip Smit voor haar rol in de voorstelling Motherland van Stichting Jip Smit Motherland
Nadia Amin voor haar rol in de voorstelling Vecht van LikeMinds
Yela de Koning voor haar rol in Corolianus van Het Nationale Theater
Mariana Aparicio voor haar rol in de voorstelling De Jaren van Het Nationale Theater
Louis d'Or
Meest indrukwekkende mannelijke dragende rol
Eelco Smits voor zijn rol in Geschiedenis van Geweld van Toneelschuur Producties
Sanne den Hartogh voor zijn rol in The Underground van NITE, Club Guy & Roni, Slagwerk Den Haag en Asko | Schönberg
Phi Nguyen voor zijn rol in Recht van De Veenfabriek
Colombina
Meest indrukwekkende vrouwelijke bijdragende rol
Ritzah Statia voor haar rol in The Story of Travis van Theater Rotterdam en Well Made Productions
Urmie Plein voor haar rol in Ik zeg toch sorry van Raymi Sambi Maakt en Theatergroep Aluin
Malou Gorter voor haar rol in De Dappere Soldaat van Toneelschuur Producties
Arlecchino
Meest indrukwekkende mannelijke bijdragende rol
Alex Hendrickx voor zijn rol in Wolfgang, het Wonderjong van de Theateralliantie en Theater Oostpool
Yahya Gaier voor zijn rol in Vogels van ITA-ensemble
Rick Paul van Mulligen voor zijn rol in Queer Planet van HNT Jong
Een aantal genomineerden zijn binnenkort te zien in het Parktheater: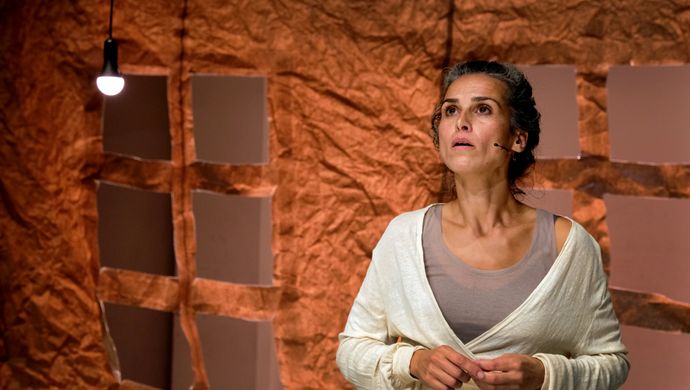 Maxine Palit de Jongh, Zephyr Brüggen, Nadia Amin | Likeminds
Let's talk about Democracy
Fri 3 Nov '23
-
Sat 4 Nov '23
Over de toneelprijzen
De Theo en Louis d'Or en de Colombina en Arlecchino zijn de Toneelprijzen van de Vereniging van Schouwburg- en Concertgebouwdirecties (VSCD): de belangrijkste belangenbehartiger van theaters en concertgebouwen. Podiumkunstenaars zijn het hart van theaters en concertgebouwen en dragen krachtig bij aan het kunstklimaat. Hun prestaties verdienen bijzondere aandacht en daarom eren de podia, verenigd in de VSCD, en partners uit de sector elk jaar de podiumkunstenaars door het uitreiken van prijzen in verschillende genres. De VSCD Toneelprijzen worden sinds 1955 uitgereikt. De uitreiking van de VSCD-prijzen wordt mogelijk gemaakt door de Podium Cadeaukaart.